Are you a new business owner in need of a website? If you are just getting started, you will need to purchase a domain name and website hosting.
This article is an updated and revised version from an original posting in 2014.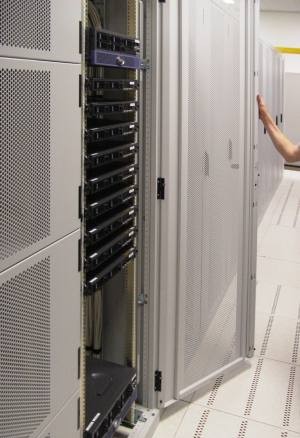 The first step in building your small business online presence is finding a website hosting company (this is where your website will live).
YOU, the business owner, should purchase your website hosting package (not your web developer). Stay in control of your business asset! If you pay for and manage your website hosting account, you can then have full control of your website, your business's greatest asset.
The cost for shared web/email hosting is just under $120 per year, for most hosting providers. Shared hosting means that you share a server with other companies. This is the most economical way to host your website and it works fine for most small businesses.
What we have learned over the years is that there is not one perfect hosting solution. All hosting providers have their issues. When shopping for a hosting provider consider what services you receive with the hosting package and whether they have 24/7 phone support.
Website Hosting Reviews Based on Experience:
InMotion Hosting's shared hosting plans come with a free domain for the first year, the option to install BoldGrid a drag and drop website builder and WordPress. The $120/year (this will be your renewal price, with promotions, you can receive a more budget friendly hosting package) is well worth the investment for the quality of hosting and customer service. InMotion Hosting will also move your website and email from your current hosting provider, free of charge, if it is hosted on a cpanel account. I recommend adding domain privacy which will costs an extra $10/year. InMotion Hosting offers 24 hour customer phone or chat support.
Even though they offer unlimited websites on each account, InMotion will limit or shutdown a website that is using too many resources (due to malware scanning or backups). If you have a very large site with several photos, or multiple sites, we recommend Inmotion's VPS hosting.
InMotion Hosting has been my first choice for hosting providers and is the hosting provider used by Current Marketing Services. InMotion Hosting offers the installation of FREE Let's Encrypt private SSLs on all Shared Business Hosting, VPS Hosting, and Dedicated Server plans. ) SSL stands for Secure Sockets Layer. It is the standard security technology for establishing an encrypted link between a web server and a browser. This link ensures that all data passed between the web server and browsers remain private and integral. You know a site has an SSL certificate if you see an https in the URL and a green lock in the address bar.
The Bluehost shared hosting BASIC plan is fine for a very simple website; however, the PLUS plan will most likely offer better performance for a small business website. This plan comes with a free domain (one year) and you can one-click install WordPress. Currently this shared hosting package renews at $120/year. If you have a large site and a need for speed, consider one of Bluehost's Cloud Hosting Solutions. We recommend the Business Pro which includes the dedicated IP, Site Backup, and SSL certificate.
Bluehost Customer service is usually decent. Over the past few years Bluehost has experienced growing pains and their support had diminished. Lately, however, we have experienced shorter support wait times when calling into their 24 hour help line. One very nice feature about Bluehost is that they offer a FREE Let's Encrypt SSL certificate, with a simple installation method. Other web hosts offer a basic SSL certificate for about $99 per year. Google announced on their blog that they are using the use of HTTPS as one of the many ranking signals.
GoDaddy's ECONOMY hosting plan will serve your purposes if you only have one website to host. The Economy plan does come with a free domain, if you pay for a full year. What GoDaddy does not disclose is the need to add "resources" to your account if you want to use certain WordPress plugins (malware scanning and backup software included). The more expensive hosting plans DO NOT come with additional server resources. Additionally, I highly recommend purchasing their Site Backup & Restore. If your website goes down for whatever reason (it happens to everyone at one time or another), GoDaddy will charge your $150 to restore your website, if you do not have the Site Back up service. Should your site go down InMotion and Bluehost will restore your site to the most recent backup, at no extra charge. So what seems like "really cheap" website hosting grows by about $4 per month once the resources and backup services are added on.
GoDaddy will recommend their WordPress Hosting as a way to add additional resources. The trade off is not having the freedom to use some of your own plugins – they blacklist several plugins. The WordPress Managed Hosting accounts we have seen include updates to WordPress Core and daily backups, but they do not update plugins and themes. The basic managed plan lacks resources to sufficiently run most plugins.
GoDaddy does have decent customer service. A live person is available 24 hours a day, via their NON toll-free number.
We do not have experience with this hosting provider, but this newcomer looks promising and deserves a look. Their basic plan looks suitable for most small businesses. They offer free SSL Installation and free daily backups.
1-and-1 Hosting has decent web hosting, with customer service that is just okay. We have experienced language barriers with most of the customer service calls we have had with this hosting provider.
All customer service is through email only during daytime hours only. Not my favorite.
Network Solutions offers WordPress website hosting. They do offer phone support; however, customer service is lacking. NS charges service fees to answer questions or troubleshoot problems. I had a client out of resources on her account and access to her website from the WordPress dashboard was blocked! After manually removing a few files from the website database, we were able to regain access to the hosting account. What we learned, account resources did not need to be increased, the database needed to be optimize. Network Solutions also have service fees if your miss your renewal or want to cancel early — be aware. In my opinion, there are better hosting options.
---
Shared Hosting vs Managed Hosting
We do not recommend "WordPress" hosting packages but rather business shared hosting. The regular business shared hosting plans offer the option to install WordPress. Just because you plan to use WordPress, does not mean you need a "WordPress" hosting plan. The difference is the managed WordPress Hosting plans offer improved performance and software updates. The problem is the hosting providers will limit the plugins allowed and not all plugins are updated, which leaves the site owner with a false sense of website security. It is better to sign up for the shared hosting plan and then make sure you take a backup of the site regularly and manually update the software at least once a month.
The exception to managed hosting options is StudioPress. StudioPress now offers a managed WordPress hosting option that comes complete with Genesis Themes. (now offered by WP Engine). It is an all-in-one site building and managed hosting solution. Only one website is allowed on each account, and like other managed hosting solutions, plugin use is limited and not all plugins will be updated by the StudioPress team. If you are considering purchasing a Genesis theme, this may be a good alternative for you. Just be aware that you will need to update software at least one time each month.
There are other budget friendly shared hosting providers out there, but none that we have seen that compare in price and service. If you have a recommendation for hosting, we would be glad to take a fair look and let you know our opinion.
How to shop for web hosting.
I suggest that you look at as many hosting providers as possible. Look at reviews for customer satisfaction.
These are the web hosting features to look for:
Disk Storage Space: unlimited is preferred
Domain Names Hosting: Consider how many domains you will park on the account and how much it cost to host a domain name
How many websites are allowed: will you need more than one website?
Do they take daily Data Backups: will the host backup your website daily? Even if you take your own backups, this is important.
Do they have excellent Customer Service: Is a live person available by chat or phone? What are the support hours? When it comes to web hosting companies, having excellent customer support is mandatory. When you have issues with your website, the web hosting support team must be available to help you resolve the issue, any time of day!
Do they offer Website Migration: If you are moving a website, will the host move it for you
Do they offer SSL certificates? What is the cost?
Are you getting a dedicated IP – Better for email when you have your own personal IP address.
Bottom line, if you experience a problem with your website, will the hosting provider be there to help.
Email Hosting Service
When you purchase a domain you will have the ability to setup unlimited email accounts with your account. With your personal domain name and a hosting account you can set up email accounts such as contact@yourdomainname, email@yourdomainname, yourname@yourdomainname, etc, You can also set up a generic email account to forward to your everyday email account.
For security purposes, it is a good practice not to host your email on the same server as your website. A VPS hosting plan is a great option if you want to keep email hosting and website hosting separate.
If you are not comfortable setting up your hosting or email account, you can hire Current Marketing Services or another website service company to help. Regardless of who sets up your domain and hosting, please be sure the domain and hosting account is purchased in your business name!
If you have any other web hosting or email questions, please feel free to ask in the comment section at the bottom of this post.
Contact Current Marketing Services via our Contact form or call 919-780-4810.